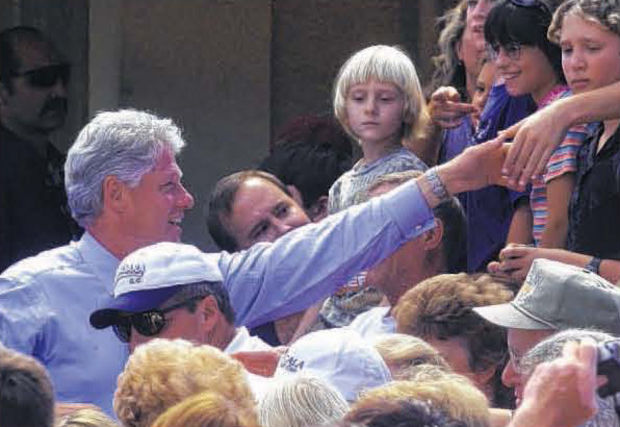 On Monday, Aug. 30, 1999 President Bill Clinton, his wife, Hillary, and their daughter, Chelsea, landed in Syracuse aboard Air Force One for a five day vacation in Central New York. The Clintons began with a visit to the New York Stair Fair, becoming the first sitting president to visit the Fair since Theodore Roosevelt in 1903 and just the third ever (President William Howard Taft was the other). At the time, Hillary Clinton was on the cusp of becoming a New York State Senator, though, according to the Washington Post in 1999, she had not yet formally announced her candidacy. Jennifer Frey also mentions that "The Clintons started their visit to central New York with a big welcome at Syracuse Hancock International Airport, where they were greeted by about 2,300 people–the largest crowd of New Yorkers to see Hillary Clinton since she announced her possible Senate run."
Here's a video from CBS-5 about the Clinton's visit:
The family then headed to Skaneateles, where, "the presidential motorcade made an unscheduled stop at a roadside lemonade stand bearing a sign that read: "Lemonade. Clintons are free. (Anyone else 25 cents)," wrote Frey of the Washington Post.
On Tuesday, the President played golf at Bellevue Country Club and on Wednesday, the motorcade visited Auburn, Seneca Falls, and Waterloo. Thursday was another golf day for the president at Lafayette Golf and Country Club while Hillary and Chelsea cruised Skaneateles Lake. That evening, the Clintons attended a fundraiser for Hillary Clinton's still unofficial run for the U.S. Senate. The five days of motorcades and handshaking came to an end on Friday when the Clintons left on Air Force One.
— Dan Connors and Jon Zella of the OHA