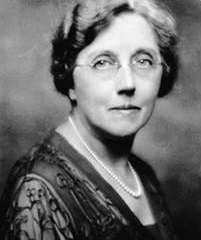 Monday Ms. Stories is a feature that focuses on the women of Onondaga County's past that many may have either forgotten, haven't heard of, or don't know much about.
Mary Jenkins – (1879 – 1967) Mary Jenkins was born in 1879 in Syracuse, NY to Arthur Jenkins, founder of the Herald newspaper. In 1903, at the age of 24, she inherited the newspaper from her father and became president of The Herald Company. "Born with printer ink in her veins," Jenkins was a pioneering Syracuse newspaperwoman and civic leader. She was president of the newspaper until her retirement in 1957, and was quoted as having made "one of the longest contributions to continuous newspaper service in the history of New York State."
Jenkins was very much involved in furthering women professionals. She helped found Zonta International in 1919 in order to bring together women who had occupied important positions during the First World War, an organization that still exists today. Jenkins was elected the first president of the Confederation of Zonta Clubs and the Syracuse Zonta Club, as well as an international charter member from 1919-1921.
She also helped found Syracuse Memorial Hospital, served on the board for 34 years, and was its president for 15 years. Furthermore, she was the first lay member of the Public Health Board of the New York State League of Nursing Education. In 1945, Mary Jenkins received a doctorate of humane letters from Syracuse University. She became an honorary member of the American Hospital Association in 1948. In 1950, the Jewish War Veterans named her "Syracuse's most outstanding citizen." Jenkins died in 1967, and is buried next to her husband in Oakwood Cemetery.
"[Mary Jenkins is] an executive, administrator, philanthropist, counselor of rare and human understanding, soundness of judgment, sincerity of purpose, ideals of service and graciousness of personality." – from SU's ceremony conferring a doctorate of humane letters on Mary Jenkins in 1945